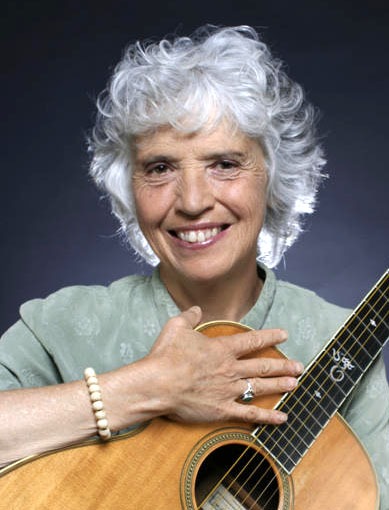 Betsy Rose
Betsy Rose is a singer, songwriter and community activist whose insight, warmth, humor, wit and wisdom have added a wealth of songs to the world of folk and progressive music for over forty years.
The songs of the Civil Rights movement, the hymns in her minister father's church, classical musical training, and the songwriters of the burgeoning folk movement of the 60's provided rich soil and deep roots for Rose's emerging gifts as a songwriter and singer. Her songs are an artful blend of beautifully crafted lyrics and music, with messages that inspire listeners to greater faith in the human capacity to create "a world of peace, of promise and of grace" (from Real To Me)
Rose was a pioneering voice in the Women's Cultural Movement of the 70's and 80's, singing at national and international festivals, touring the United States and Canada. Artists such as Pete Seeger, Ronnie Gilbert, and Bobbi McFerron have sung and/or recorded her songs, as have numerous Women's and Peace Choruses throughout the country. Contemporary cultural visionaries such as Thich Nhat Hanh, Matthew Fox, and Joanna Macy have included her music in their work.
Betsy has performed and taught widely throughout the United States and Canada, India, Australia and the Czech Republic.  She has sung at festivals, and at conferences for spiritual organizations, activists, educators, and parents, including the California Early Childhood Educators, La Leche League, Association of Humanistic Psychology, Mindful Schools, Omega Institute, and AIDS and Hospice services.
The events during and after 9/11 inspired Rose to form the Bay Area Singing for Peace project–groups of non professional singers gathering in public sites (BART stations, Farmer's Markets, etc) to sing songs of healing and peace. She also leads Womansong Circles, participatory singing events for women, in the Bay Area (CA) and nationally. She is active with Occupella, a five woman singing group that leads community singing at demonstrations, vigils, and marches in the Bay Area.
Her work with children and families includes serving as Music Specialist at Cornell School in Albany, CA, and training teachers in using music to teach conflict resolution, diversity awareness and social skills to young children. Betsy is also active in the Mindful Schools movement, bringing songs to in-school programs teaching Mindfulness Practice to students and teachers. She is a frequent guest leader in the family practice program of Spirit Rock (Buddhist) Meditation Center in Woodacre, CA.
Rose's numerous recordings include Motherlight, songs from the journey of parenting, and Heart of a Child, inspirational songs for educators and parents. In My Two Hands is music inspired by the teachings and poetry of Thich Nhat Hanh. In 2006, Betsy released Welcome To The Circle, a selection of songs from her monthly Womansong Circles, sung by Betsy and a chorus of women's voices. Calm Down Boogie, songs for children and families, celebrates the joys of simple living, homespun happiness, earth care and family bonds. Real To Me, is a stirring and beautifully crafted collection of songs for our times- songs of hope and faith, humor in the face of the rigors of child raising, inner healing, and global family connections. Her latest recording, Long For This World,  is a poetic and personal musical reflection on the losses and gifts of aging and end-of-life
Betsy Rose has a 27 year old son, Matthew, who is an organic/regenerative agriculture farmer.  She lives in Berkeley California with her partner David Stark.