For Women
Responses to Betsy's work with women
"Singing Is Not A Skill- It's A Birthright"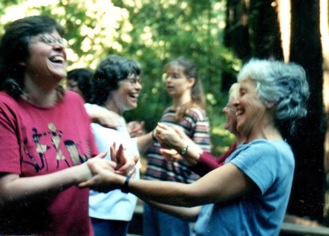 I came of age during the wild and wonderful days of both the Folk Music revival of the 60's and the modern feminist movement of the 70's and beyond. Inspired by the voices of strong women, the women's festivals and concerts, the feeling of possibility that hummed through it all, I wrote "Glad To Be A Woman" in 1976, my first public claiming of identity as a woman speaking/singing for herself and for her new-found sisters. I wanted other women to have this life changing experience- to let body and spirit sing out strong and free- and I began leading women's song circles and retreats.

"Glad to be a woman
Glad to be alive
Glad for the children
To take my place
Glad for the will to survive".
"It is a joy to spend a weekend with a leader who is clear and powerful in her vision for the workshop AND gentle and open in honestly inviting others to co-create with her."
– Tracy, Ben Lomond Quaker Center, CA
Programs include:
Womansong Circles: Drop in song circles for women
Time Women And Song Retreats
Singing With Body and Soul: Vocal Empowerment Workshops
Cradle To College: A Musical Chronicle Of The Delights, Miseries And Spiritual Depths Of The Parenting Journey 
Keynote And Conference Presentations For Women's Organizations And Communities
Contact Betsy to invite her to your community for a women's retreat, conference, musical keynote address, workshop, or other event.